Empower Your Team, Learn Communication Skills and Excel
Hone Your English Founder
Benjamin is a renowned English teacher with over 18 million views on YouTube. He's helped thousands of professionals from around the world achieve their goals and become fluent in English. 
Benjamin started Hone Your English in 2013 with the goal of creating a personalized approach that could get students results quickly. He has recruited the best tutors in the business to teach people the English they need to succeed in their work. 
Free Digital Training Series in Business English
Eliminate the frustration of language barriers and empower your team with our comprehensive step-by-step resource. This guide is tailor-made to help your employees::
✓ Actively participate in meetings 
✓ Deliver compelling presentations 
✓ Communicate effectively through clear and concise emails
Get your free guide now and unlock the full potential of your team's communication skills.
Receive weekly tips direct to your inbox. Unsubscribe at any time.
Is your Team Struggling to Communicate in English?
Speak Confidently In High-Pressure Situations
Telling a language exchange where you are from and what you like to do in your free time is one thing, but articulating ideas in a boardroom full of stakeholders is quite another.
With our customised courses, we put our students in live, interactive scenarios that empower them to deliver impactful presentations and have real influence when it matters most.
Communicate Precisely With Industry-Specific English
Looking for an English teacher who understands your industry? Our elite instructors bring a wealth of industry backgrounds, catering to diverse fields, with particular focus on the Chemical Manufacturing and Petrochemicals industries. 
Write Like An English Speaker
Does your team find it difficult to organise their ideas and write coherent emails, reports and proposals? Equip them with the skills and confidence to write clearly in English. Our individualized lessons plans and practical approach will facilitate eloquent and effective expression.
Supporting Businesses to Achieve Effortless Communication in English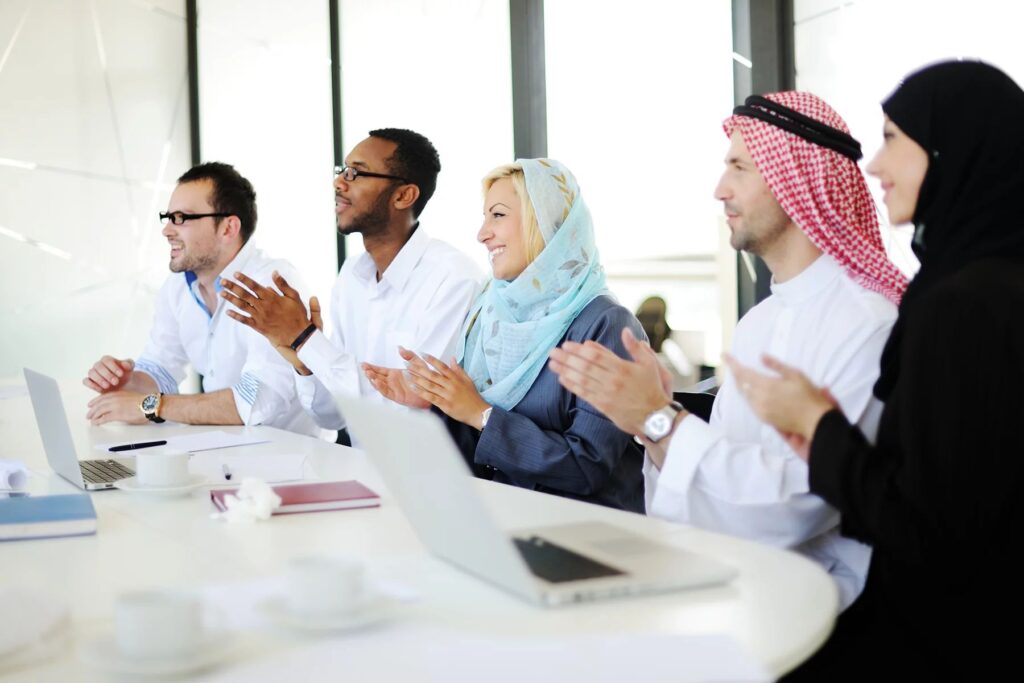 Introducing: English Edge - Our Market-leading, Highly Customized Business English Course
Are your employees having difficulties expressing themselves in good spoken and written English? We create personalized courses that equip teams with the language they need to succeed.
Premier League Executive Language Consultant & European Parliament  English Tutor
Ben is a highly sought-after English teacher and a delight to work with. He routinely teaches high-profile Premier League managers, businesses, and members of the European Parliament. Ben is an industry leader in English teaching and has written numerous English textbooks.
Los Angeles Vocal Coach & Executive Presentation Instructor
Helen is a voiceover actress who currently works in the Los Angeles film industry. She specializes in enabling business professionals to make profound improvements in their presentation skills by coaching them to speak confidently and clearly.
Vocabulary & Grammar Expert
Rodney is a very engaging teacher with excellent knowledge of English grammar and vocabulary. He is an experienced instructor with over 10,000 teaching hours under his belt. He coaches professionals around the world how to be more dynamic, diplomatic and dexterous in their English use. 
Language & Business Etiquette Coach
Annabel is a highly valued English teacher. Formerly a Senior Manager at PriceWaterhouseCoopers, she has provided consultancy for major businesses in both London and Sydney. She is an expert at teaching English and etiquette in boardroom and business settings.
Adam started his professional career shortly after training at London's most prestigious conservatories for the Voice and Acting. Now a prominent English vocal coach, Adam works with many high-level professionals to help them communicate with eloquence.
Broadcasting Developmental Coach &
C-Suite Executive English Tutor
Freddie is an expert at teaching networking communication skills. His highly business-specific approach gives students the ability to be comfortable in media and casual business settings.
Hear From Our Past Clients
'Thank you so much Benjamin. Thank you. I totally appreciate what are you doing. This is really amazing.'
'Thanks to entire team, giving presentations without preparation became possible. '
'I'm more confident now. I can see all the improvements in my meetings.'
'All teachers in Hone Your English have the same objective: to bring you to the level of a native speaker. The lessons are prepared and well organised.'
'I feel much more comfortable now with my writing when I send emails to my customers and I have even started a blog.'
'It's really helpful especially with Grammar and also Business English- how to facilitate meetings etc.'